About Us
Welcome to Commercial Lighting Solutions, your resource for lighting management solutions that reduce energy, waste, and spending. We specialize in supplying lighting services to commercial and industrial clients throughout Western New York, repairing all types of lighting fixtures. We perform energy-saving lighting upgrades to provide more effective lighting at a fraction of your current electricity costs and establish personalized programs to ensure lighting is properly maintained.
We understand that your first concern is the successful operation of your business. And frankly, you have better things to do than worry about maintaining your lighting system. That's our business. Since 2006, Commercial Lighting Solutions has been providing superior lighting products, maintenance, and emergency services to businesses like yours. We know the value of delivering what we promise: it's a difference that sets us apart from our competition. Our commitment has always been to give you superior service, value, and follow-through, whatever your maintenance needs. Commercial Lighting Solutions specializes in strategic management and maintenance of lighting systems. The goal of our services is to eliminate energy waste, optimize system performance and provide your facility with maximum recommended lighting levels at all times.
Our services give your employees the light they need to work most productivity, give your customers merchandise that is well-lit by an attractive, bright lighting system; and give you time, energy and financial savings that cut your current lighting costs by 30% to 50%.
Commercial Lighting Solutions helps commercial property owners achieve business objectives:
Create a welcoming, open-for-business appearance
Reduce operational costs by lowering energy consumption and maintenance expenses
Provide dependable lighting for safety and security
Satisfy LEED certification requirements
On Call Repairs at pre-agreed rates or affordable Scheduled Maintenance Plans. Our service programs are tailored to specific customer needs. Customers depend on Capitano Lighting for prompt, high quality response to all service requests. Looking to save money on your lighting needs, contact us at 716-531-2274.
Special purpose vehicles stocked with spare parts enable efficient service work. Skilled, licensed technicians experienced with commercial lighting save time and money. High-quality components and great pricing on service work. Dedication to customer service with guaranteed satisfaction.
Commercial Lighting Solutions provides regularly scheduled maintenance to our customers. Our technicians can visit your site on as scheduled (Monthly, quarterly, or as requested) to inspect all lighting systems and provide immediate repairs or replacements. With proper lighting maintenance, you can ensure a positive appearance for customers and help maintain a favorable work environment for employees.
Why Commercial Lighting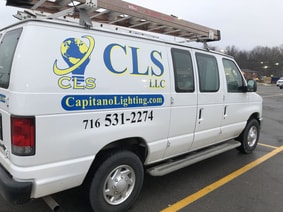 To offer you the most economy and flexibility, we customize all of our regularly scheduled maintenance programs to match your requirements. Our highly trained, certified technicians are available when you need them for repairs and re-occurring maintenance. Best of all, because we specialize, you save money! So relax and leave your lighting to Commercial Lighting Solutions.
Our clients include:
Office buildings
Retail stores
Warehouses
Industrial spaces
Grocery stores
Schools/Universities
Banks
Car dealerships
Multifamily buildings
Apartment buildings
Condos
Hotels
Recreational facilities
Arenas
Museums