Recycle Hazardous Fluorescent Lighting
Commercial Lighting Solutions has been committed to providing its customers with an inexpensive and efficient way to recycle mercury-containing lamps for years. You need to know if your lighting contractor is recycling or disposing of your old lamps as hazardous material, because you may be held accountable for the environmental damaged and clean up caused by improper disposal.
Disposing of your old fluorescent lighting tubes can be a nuisance. Remember, it's illegal to put them in the trash! Commercial Lighting Solutions can painlessly and cost-effectively recycle your unwanted lighting waste for you.
Lamp Recycling (includes but not limited to):
Fluorescent 4' and compacts
Fluorescent 5' and greater (Signs)
U-shaped and circular
High Intensity Discharge (all types)
Neon Signs
Mercury Switches
Lamp and Ballast Recycling
Certificate of recycling for your records
According to the Environmental Protection Agency (EPA), most fluorescent lamps contain enough mercury to be considered a hazardous waste because of the mercury content. If placed in the landfill, the mercury becomes an environmental threat by migrating into the air and groundwater supplies. Benefits to recycling the fluorescent bulbs include saved landfill space, reduced raw material production needs, and preventing toxic material from harming the environment.
LED technology is one option that is proving to be an expected viable alternative to mercury-containing lamps in the future. LED's have been around since the 1960's and offer energy efficiency, maintenance savings, impact resistant, durability and other benefits. They are significantly more energy efficient than incandescent and fluorescent lamps.
If you are in need of lamp or ballast disposal please call us at 716-531-2274 or contact us here.
Why Commercial Lighting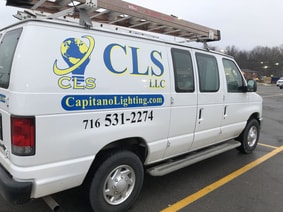 To offer you the most economy and flexibility, we customize all of our regularly scheduled maintenance programs to match your requirements. Our highly trained, certified technicians are available when you need them for repairs and re-occurring maintenance. Best of all, because we specialize, you save money! So relax and leave your lighting to Commercial Lighting Solutions.