Commercial Lighting Installations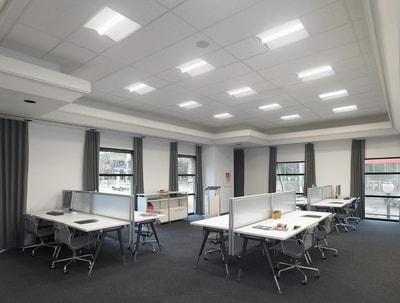 Did you know poor lighting costs your business much more than your electric bill shows? As with other pieces of technology, lighting fixtures have greatly advanced with enhanced efficiency and performance features. Additionally, warmer tones improve visibility without feeling harsh on the eyes. By updating your lighting system to LED fixtures your initial investment can even be made back in the matter of a few years.
Cost-Saving LED Fixtures
Put your business in a better light by making sure your displays and offices are properly illuminated inside out. While many offices, storefronts, and industrial workspaces have fluorescent lighting, updating your business to LED lighting can give you energy savings of up to 50%. In addition to using less energy, LEDs last longer than fluorescent lights, minimizing your need for frequent lighting maintenance work. Lastly, depending on the model, LEDs can emit light less harshly, creating more comfortable displays and workspaces to increase productivity and customer satisfaction.

Why Choose A Local Lighting Contractor?
Choosing our team at Commercial Lighting Solutions means saving your business money with our lower overhead and labor costs. Our team is locally based in Buffalo, NY, which means you will not be charged for travel expenses and living arrangements for a corporate team. We also provide superior customer service, through 24/7 emergency lighting services for our projects built into our plans. Lastly, we help you find local rebates that your business will be eligible for with upgrades to LED lighting fixtures.
Schedule Your Lighting Installation
When your business needs improved lighting around Buffalo, NY, you can depend on Commercial Lighting Solutions. Whether its lighting maintenance, LED Installation, or repairs, we can send a team to help. Contact us to schedule a consultation today or call 716-531-2274!
Why Commercial Lighting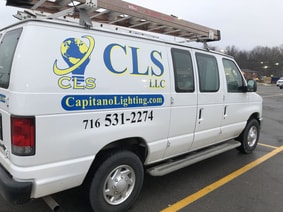 To offer you the most economy and flexibility, we customize all of our regularly scheduled maintenance programs to match your requirements. Our highly trained, certified technicians are available when you need them for repairs and re-occurring maintenance. Best of all, because we specialize, you save money! So relax and leave your lighting to Commercial Lighting Solutions.
Our clients include:
Office buildings
Retail stores
Warehouses
Grocery stores
Schools/Universities
Banks
Car dealerships
Rental Properties
Hotels
Recreational facilities
Arenas
Museums